JIM KAUFMAN'S

New!
The Sunrise Online Store is now open and accepting orders.
---
The Sunrise Online Store is restocked once a week as new products are built.
If a product is marked SOLD OUT
check back again in a few days for availability.
---
After you've placed your order, you will need to call 818-785-3428 to process your Mastercard or Visa payment.
Currently, we are working on payment from the site, and that should be available in the next few weeks.
Jim Kaufman
---
Coronavirus Update:
April 9, 2021
First of all, many thanks to our loyal customers and friends checking in to see if we are safe and well.
At this time we are collecting and shipping orders as usual, and will continue to do so, as long as there are no interuptions from UPS .
Our inventory of supplies and materials are well stocked through this year.
Take care everyone and stay well.
Thanks again for checking in.
Jim Kaufman
---

Click on the Porsche Carrera
for latest Sunrise availability
---
Updated: April 9, 2021
The 2021 production run of 500 Sunrise Pickups is underway.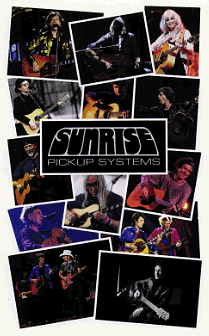 Jim Kaufman
Sunrise Pickup Systems
2635 Lavery Court
Unit 9
Thousand Oaks, CA 91320 USA

Tel: 818-785-3428

jimsunrise@earthlink.net
---
The Installation Kits that are supplied with the Sunrise S-2
are available as an individual item listed as part number S-Kit.
You can purchase these factory direct or from your Sunrise dealer.
Click on the link:
---
London Royal Albert Hall
Richard Thompson
70th Birthday Celebration

---

Michael Theroux
From the Celtic band:
Shamrock City
---

---

The Rolling Stones
in Rehearsals Los Angeles CA
September 21, 2016
---

Kris Roche from Japan
---

Mark Hanson
---

Emmylou Harris
The Wilma Theater Missoula Montana
---

Dave Grohl
Blackbird
Academy Awards In Memoriam Performance 2016
---
Magazine Ad Zenbu Japan

Isato Nakagawa and Kotaro Oshio
---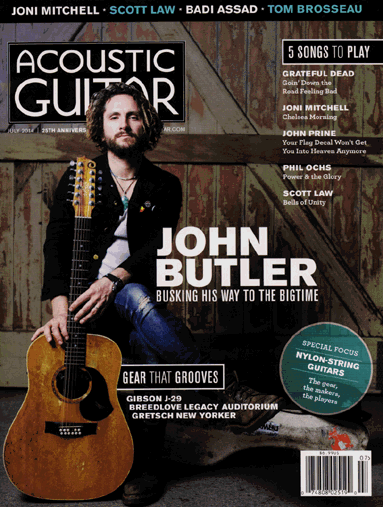 John Butler
Scott Law
Joni Mitchell
Phil Ochs
Bob Weir
---

25 Year Sunrise Anniversary
Gray with silver embossed Sunrise
250 Numbered Limited Edition Sunrise Pickups.
Available January 2010
Sold Out December 2010
---
SUNRISE PICKUP SYSTEMS
Feature article
Acoustic Guitar Magazine (Japan)

---

Kotaro Oshio
Acoustic Guitar Magazine (Japan)

---

Norah Jones
and
Keith Richards
---